The Strega Alberti of Benevento


Strega Alberti Benevento S.p.A 150 years of quality tradition. The history of Strega starts in Benevento in 1860. Strega Alberti today still occupies the same historical building next to the train station.
Today the Company represents one of the most efficient industrial templates in southern Italy. The company employs 75 people divided into employees and workers, the company is also divided between the traditional liqueur and sweet production section and since 1998 the pastry preparation section.The Factory and its administration is still run by the Alberti family, it is now at the fifth generation. The secret of Strega Alberti lies in its ability to combine traditional products with technological progress. All the production phases have evolved but still keep the wisdom of the Master pastry chefs and liqueur makers. These traditions make Strega Alberti one of the most widespread brands in the world. Our products are available on a large distribution scale in Italy and in 50 other countries including USA Argentina and Australia and of course the countries of the European community.

THE FOUNDER GIUSEPPE ALBERTI, IN 1860, IMMEDIATELY UNDERSTOOD THE IMPORTANCE OF BEING LOCATED CLOSE TO A RAILWAY STATION, TO EXPORT THE PRODUCT ALL OVER THE COUNTRY
AT THE BEGINNING OF THE PAST CENTURY, STREGA LIQUEUR WAS ALREADY GLOBALLY APPRECIATED
HUNDREDS IMITATION ATTEMPTS, NO ONE SUCCEEDED
A COMPANY RICH OF HISTORY IN THE SANNIO: A LAND OF GREAT VALUES
Strega Alberti Worldwide

Strega delicious goods are produced in the historical Benevento factory and exported to over 50 countries in the world.
The main foreign markets are Latin America, North America, Australia and Europe.
Communication
STREGA ALBERTI FOR TWO CENTURIES HAS BEEN A MAJOR KEY-PLAYER IN THE ITALIAN COMMUNICATION HISTORY. ARTISTS SUCH AS MARCELLO DUDOVICH AND FORTUNATO DEPERO CONTRIBUTED TO CREATE MARVELLOUS ADVERTISING GRAPHICS, TODAY CONSIDERED A REAL STYLE MANIFESTO. THE FIRST 50'S AND 60'S TV CAROUSELS WERE FEATURING VERY INNOVATIVE STREGA ADVERTISEMENTS.
Cinema
STREGA IS A KEY-PLAYER IN MANY '900 CINEMA MASTERPIECES. MOVIE SCENES BY GREAT DIRECTORS SUCH AS DE SICA, FELLINI AND MORE RECENTLY SOLDINI, FEATURED THE STREGA LIQUEUR WHILE BEING TASTED BY THE CHARACTERS.
The Premio Strega
FOUNDED IN 1947 BY GUIDO ALBERTI AND THE BELLONCIS, THE STREGA PRIZE IS THE MOST IMPORTANT LITERARY AWARD IN ITALY. THE LXXIº STREGA PRIZE WAS ASSIGNED TO PAOLO COGNETTI FOR "LE OTTO MONTAGNE" (EINAUDI).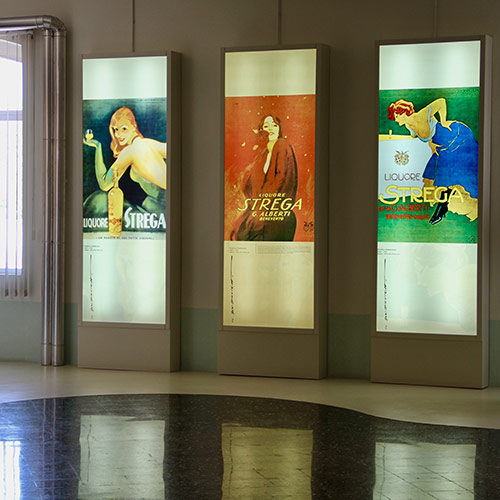 SPAZIO STREGA. A PLURISENSORIAL MUSEUM
The old Benevento factory hosts a fascinating corporate museum, where you'll learn about our history, discover the ancient herbal distillation process, taste the Alberti products and be seduced by over 150 years of passion for excellence.